Digital Photos on Computers: Day 1
Flash Memory and Digital Storage Basics
Digital cameras store photos on "Flash Memory", an inexpensive storage format based on a silicon chip with no moving parts.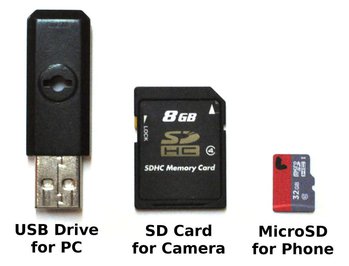 Uploading digital photos from a camera to a computer
You can plug the camera directly into the computer using a special cable, and sometimes special driver software, both of which come with the camera.  I usually remove the flash storage card from the camera, and plug it into a USB card reader: this is often faster, and easier on the camera battery, but I do it because I can't keep track of the special cable!  Most laptops and some desktops have an SD card reader built in.
Once connected to the computer, digital photos are stored in the "DCIM" folder (

d

igital

c

amera

im

age).  Each image is a separate file of type JPG, and named with some letters and a number, which counts upward each time you press the shutter.
Everything stored on a computer is organized into files (one document or photo) and folders (collections of documents or photos).
To copy an image file stored on flash to your desktop, click on it, and drag onto the desktop.  
To copy all the image files, click outside any image and drag a rectangle across all the images.  Now drag them all to the desktop.
Because your desktop will get covered with pictures very rapidly, I make a dedicated folder to store incoming pictures, and drag everything into that first.  Every few months, I sort the pictures in the incoming directory by person, place, or thing--each of which has their own folder!
Computing sizes
Byte: one letter, or a number from 0-255
Kilobyte (KB): 1000 bytes, about enough for a small email or short web page
Megabyte (MB) or "meg": 1000 kilobytes, about the size of one digital camera image.  Copying a few megs across the internet is not a very big deal, and should take under a minute.
Gigabytes (GB) or "gig": 1000 megabytes, about the size of a CD.  Flash storage, as used in cameras and phones, is usually measured in gigs.  Copying a few gigs across the network is a big deal, and will take hours or days.
Terabytes (TB): 1000 gigabytes, about the size of a recent desktop computer's hard drive.  Flickr will give you a terabyte of storage for free.  A typical computer can store nearly a million digital photos today, so don't be afraid to keep them, but organizing them is important!
Hard Drives, Flash Memory, USB, CD, DVD, network, and other storage
Make backups!  I've had hard drives go bad, flash drives stop working, CDs that won't read, and network servers vanish.  I keep the main copy of all my photos on my main computer (my laptop), which I back up to my desktop computer.
Pixels
The basic reality and mystery of pixels: little rectangles storing a red, green, and blue brightness.  One million pixels makes a "megapixel" (or "MP"), which is actually quite a few pixels.  For example, the highest 1080p HD video is only 2 megapixels.  So a 10MP camera is capturing quite a bit more detail than you can see on the screen, but this lets you zoom or print poster-sized output. 
The general rule with pixels is it's easy to make fewer pixels, by averaging colors, but you can't make more pixels.  I've got some beautiful photos from my wedding that are nearly useless because they were taken on a 0.1 megapixel digital camera!
Image sizes:
10 Megapixels or more: Typical digital camera photo.  The image is often 3000 or more pixels high, so it can be printed poster-size without getting blurry or blocky, and you can zoom in and recognize faces in a crowd.

2 Megapixels: Full high definition video, 1080p, is 1080 pixels high.  Even good computer or cell phone displays are only a few megapixels.  Most web sites, including Flickr and Facebook, upload only a few megapixels by default to save space.

1 Megapixel: High definition video, 720p, is 720 pixels high.  Moderate laptop or cell phone displays are 720p.

0.3 Megapixel: DVD quality video is 480 pixels high.  Digital cameras from 15 years ago are often 640x480 pixels.

0.25 Megapixel: Facebook timeline photos show up at 500x500 pixels by default.  If you zoom in, Facebook switches to a higher resolution image!
The trickiest part about photo output is choosing a size.  More pixels gives you more detail, but also takes more disk space and network time.  You can shrink photos down one at a time in the GIMP or many other programs.  Picasa can shrink photos in batches, and can also automatically burn CD's.
Email: small is better; preferred size is less than 1000 pixels across.  It's often better to just post a link to a website, rather than email phot

os directly.  WARNING: sending more than a few megabytes can lock up your receipient's machine, or cause their email to stop working!  Don't email people tons of huge photos!
Website: tiny (500-pixel!) preview, medium-size (2000-pixel) fullscreen image.    More than about two thousand pixels across is wasted on the web.  See Facebook, Flickr, SmugMug, etc.  

CD/DVD: prepare pictures just like for a website (with previews), but then burn to a disc.  This is the best way to send a whole archive of photos to a friend or family member.

Printers: higher resolution is generally better--an 8x10 print will need all the pixels a low-end camera can produce!   Generally figure 150 to 300 dpi should be enough.  Buy an inkjet printer (tiny dots of expensive ink), a laser printer (dots of toner), a dye sublimation printer (smooth tone), or just use Fred Meyer or Walmart or any of the dozens of similar places.

I usually take photos at the highest possible resolution, then scale them down for output (I use the GIMP, but Picassa makes this easier.  We'll cover both!).
Taking Nice Pictures with Digital Cameras
Digital cameras record light.  The more light there is to record, the better the image will be.  The amount of light captured is a product of:
The amount of light in the scene.  Open some windows and turn on all the lights before resorting to your flash!  (In addition to consuming lots of battery power, the hard electric glare of the flash just doesn't look very good to me.)
The size of the camera's aperture determines how much light makes it onto the sensor.  Aperture is measured in f-stops, and smaller is better: a small point-and-shoot might be f/3.3, while a big "fast" lens is f/1.6. Aperture is one of the few remaining features where the more expensive interchangeable-lens Single-Lens Reflux (SLR) cameras have a pretty serious advantage over point-and-shoot handheld consumer models.  There is a slight downside with large apertures that it gets trickier to keep the whole image in focus (large aperture means small depth of field), but generally more is better.  I often buy digital cameras based on the lens size rather than the megapixels.
The exposure time determines how much time the sensor records light.  More time equals more light, but more of a chance for the camera to move during the exposure, which blurs the image.  Most people's hands are pretty steady up to about 1/60th of a second, but if you hold your breath and have something steady to lean against, you can get good photos down to 1/8 second exposure or even slower.  Longer than that, and you need to use a tripod (they're pretty cheap!).  Blurring gets worse with telephoto zoomed in, or fast-moving objects like sports or cars.
A digital camera's "ISO speed" actually refers to the electrical amplification done inside the camera: higher ISO gives you a brighter image, but more noise.
I usually leave all these settings on "auto", except I turn the flash off!  If the shots come out blurry (because the exposure time is too high), I'll use a tripod before turning on the flash.
Other tips and tricks:
It's handy to plug your camera directly into a TV, using either the yellow RCA plug (this goes into the TV aux input, like an old video game), or on newer cameras an HDMI plug (this goes into the TV's HDMI port).  Using the big screen of the TV can be a pain to set up, but it is a decent way to show photos to friends and family, or to get a good look at the menus!
Push the shutter button *halfway* down to let the camera do its autofocus and exposure calculation.  For a tricky shot like a flower, I sometimes will autofocus on something the correct distance away,then pull the camera over to the flower before pushing the button all the way down and taking the picture.  The button halfway down trick can reduce shutter lag, when you're trying to catch something moving fast. 
For closeup shots, some cameras have a 'macro' mode or button, some automatically switch to closeup, and some don't take good closeups at all.  
One tiny grain of sand can jam up the little gears that zoom your lens in and out.  This is the traditional reason for using a camera bag, but I find them bulky and never quite the right size.  I often just keep the camera in a clear plastic food bag.
Don't forget about digital video!  Modern digital cameras shoot surprisingly good video, usually high definition at 30 frames per second.  
Homework
Read your main digital camera's manual!  There's probably stuff in there you'll be glad to find out. 
Copy some of your photos onto the computer.  How many megabytes is each photo? 
---
Digital Photos on Computers is an Osher Lifelong Learning Institute course taught by Dr. Orion Lawlor.