Intel Larrabee Chip
Overview
Graphics card designed to compete against ATI/Nvidia.
Release date late 2009/2010.
Hardware Specs
Part CPU
4-way simultaneous threading per core due to keeping 4 copies of each register.

32 KB integer / 32 KB float L1 cache per core.

256 KB L2 cache per core.
Part GPU
512 bit vector processing unit, per core ( 16 floats at a time ). Think extra wide SSE.

Fully programmable graphics pipeline.
Cool Features
Cache coherency across all the cores.

Explicit cache control for the programmer.

1024 bit ring bus, 512 bit each way.

Built with 45 nm process.

Clock rate expected to be around 2.6 GHz.
More Features
Very little graphics hardware, most operations performed in software.

P54C is super-scalar but doesn't do out of order execution.

5 stage pipeline (or close to it).

Can run programs from DirectX, OpenGL or Larrabee Native Programming Language ( C/C++ with a new compiler).
Hardware Layout
Vector Unit Diagram
Larrabee Core High Level Diagram
Comparison of Graphics Manufacturers Building Blocks
Ring Bus Layout
Possible Performance

Note the drop off in performance gain after 32 cores.
Intel Propaganda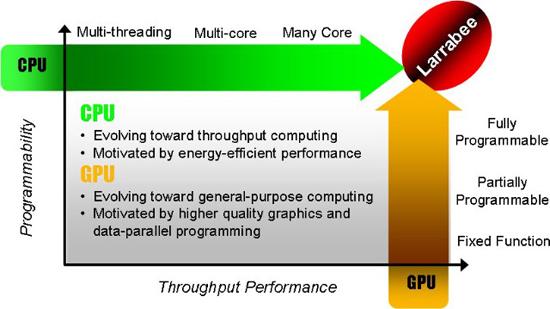 Sources
http://arstechnica.com/news.ars/post/20080708-intels-larrabee-gpu-based-on-secret-pentagon-tech-sorta.html

Brian Paden (author)